Silmo 2021 was abuzz with sustainability initiatives. Jai Breitnauer hunted down a few optics businesses working for the social good.
"Are these pictures for the magazine or for you?" laughs Francois van den Abeele as I adjust my camera lens. Relaxed, stylish and funny, he's a joy to spend time with. But he isn't here to make friends. In fact, he isn't really interested in making glasses. What he wants to do is make a difference.
In 2015, van den Abeele started Sea2See, making optical frames from recycled ocean plastic. "I grew up in Africa; I'm an outdoors sort of a guy. It's sad to see the impact plastic waste has made on the environment," he tells me as we look through his range of frames. "In 2015, when I was just starting to wear glasses, the choices were all virgin plastic. And I was following brands like O'Neill that were using recycled materials but there was nothing really in the optical industry. I felt I could do something."
It wasn't easy: van den Abeele says he was laughed out of every manufacturer's office initially. "I wanted to make a difference but I didn't have a huge amount of money to invest, just passion. I was looking for a partner," he explains. "But manufacturers did not want to get involved. They thought it was arts and crafts; I wasn't taken seriously."
Then van den Abeele found a manufacturer in Barcelona that agreed to produce some test frames for free. "I met them in 2016, and they believed in my vision," he said. "I came back a month later and they had 30 frames for me."
After a Kickstarter campaign raised €39,000 (NZ$64,965), van den Abeele was able to fund his first collection. "We offer a stylish, high-quality product. A lot of science has gone into it, understanding which polymers can be recycled and what method to use to get the best finish," he says. "People want to stock it because it is a good frame, not because it is recycled."
The wood from the trees
Attitudes to recycled materials are improving as better methods of recycling raw materials emerge, says Marco Barp. His eyewear company Tree Spectacles used wood when it started in 2012 but has used bio-acetate almost exclusively since 2015. "In the past, people thought of bio-acetate as cheap," he said. "But it's changing. Tree Spectacles is known for modernity and minimalism, but a modern company uses modern materials, which means a sustainable material – the result is better."
Many brands are now switching to bio-acetate or similar products: Vava Eyewear won this year's Silmo d'Or Special Jury Prize for its CL0015 frame made from castor oil; new brand Botaniq has just launched in New Zealand, with eyewear made from sustainable materials such as cork; while O'Neill's Blue Collection uses recycled fishing nets. Manufacturers are just thinking differently now, say eyewear designers.
A social core
"Sustainability used to be a trend, a marketing approach; there was a lot of 'greenwashing'," says Maarten Weidema, former eyewear designer and founder of The Eyewear Forum, a European magazine that promotes independent brands. "Covid has changed that. Now it seems to be a way of life. Lockdown gave brands the time to change things and inspired that change to be genuine."
But it is the move from using environmentally friendly raw materials towards a full corporate social responsibility model that demonstrates real change, says van den Abeele, as the way companies operate is more important that what they make. "We created the Sea2See foundation and partnered with an NGO to collect waste that we can use on the production line. We empower local communities to collect that waste, cleaning up their environment, and we pay them for it as well.
We have enough raw material now to make glasses for 15 years, but we won't stop collecting – the positive impact is too great," he says. "It's what we do at source, not what we produce, that's important."
Save the whales
Dick Moby, started by surfers Tim Holland and Robbert Wefers Bettink in 2014 to tackle ocean waste, has also widened its focus from recycled materials to a fully sustainable operation. "Ocean waste is still a major issue, but it isn't the only issue where sustainability is concerned," says Bettink. "We changed our slogan to 'Look Good For Your Planet' and started tackling other parts of our business."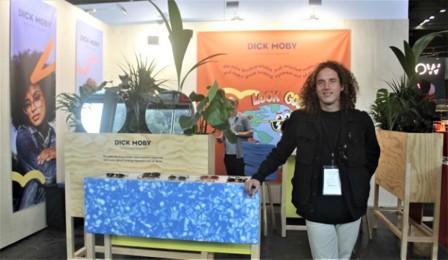 Dick Moby co-founder Robbert Wefers Bettink 
Dick Moby now uses recycled materials for its packaging and marketing, as well as its frames. It's also expanded its range to include metal frames, made from 80% recycled material. "We wanted to do more. You can't just use bio-acetate and say you are sustainable, right?" says Bettink. "It is also about how you run your business and treat your people. We are still small, so we can't dictate like bigger brands can, but we visit every factory we use to make sure it's a good partner – a good employer, safe, honest. We want to operate a fully sustainable brand."
In this year's Silmo Next section, which focuses on what's next for the eyewear industry, was a display about corporate social responsibility (CSR) in the optics industry. "Three years ago, no one in the optical industry seemed to know anything about CSR," says Eric Lenoir, director of Silmo Paris. "We knew we had a duty to introduce this topic. Optics was really behind."
Lenoir says they've made gentle inroads into this topic to date but in the post-Covid environment they want to do more. Silmo wants the optics and eyewear industry to understand the issues at hand when it comes to the environment, good working conditions, supply chain fidelity and the social impact of the industry, he says. "Silmo isn't just a show, it's about education and support to raise opticians up. Our mission is to provide information and bring people together for the better. As an industry, we need to build a CSR philosophy for optics and eyewear we can all use."
For more from Silmo 2021, click this link.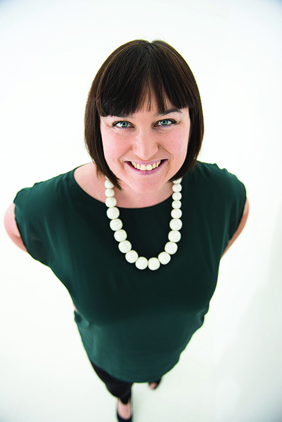 Freelance writer Jai Breitnauer divides her time between New Zealand and the UK (pandemic restrictions allowing). She lives with her husband and two children in Bristol and is a regular contributor to NZ Optics.