A grand round-up of the latest thinking in eye disease
As one of a handful of events not cancelled or moved online, Eye Doctors' first 2022 Grand Round was well attended by around 60 participants, all eager to catch up in person over some refreshments and claim some much-needed CPD. The new Remuera Golf Club venue did not disappoint, despite the mid-seminar hailstorm and a few technical issues, with each one of the Eye Doctors' principal surgeons sharing updates on matters affecting today's patients.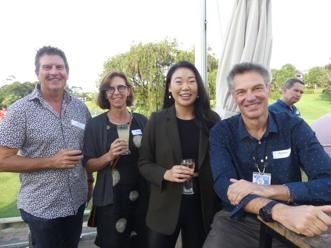 John Adam, Raewyn Hart, Jean Choi and Richard Johnson enjoying some pre-seminar hospitality
Tackling glaucoma, lessons from Covid
Dr Mark Donaldson kicked off proceedings with a nod to the evening's sponsor, Glaukos, by introducing the company's latest minimally invasive glaucoma surgery (MIGS) device for open-angle glaucoma, the Preserflo MicroShunt. An ab-externo drainage system that helps reduce intraocular pressure (IOP), Preserflo was designed to help patients whose IOP cannot be controlled with drops. According to recent studies, it's as effective as trabeculectomy in lowering IOP. Dr Donaldson also noted it was less invasive and patients required less follow-up or postoperative interventions, so it was a welcome addition to a glaucoma specialist's armamentarium, he said.
Sticking with the glaucoma theme, he explained how Covid pneumonia studies and possible new treatments could lead to better ways to tackle subconjunctival fibrosis in the bleb, the most common cause of glaucoma surgery failure. This covered medications from the antifibrotic agent mitomycin C, used to prevent scar formation, to metformin, which inhibits pro-inflammatory cytokines, and azithromycin, an antibiotic with potential antiviral and anti-inflammatory properties that's been used to treat Covid and blepharitis. Dr Donaldson also shared case studies illustrating what might treat bleb fibrosis in the future.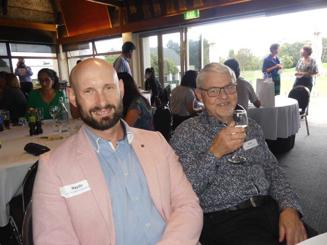 Haydn Treanor and Gary Filer at the seminar
Recurrent epithelial erosion syndrome
Dr Penny McAllum presented a series of cases of recurrent epithelial erosion syndrome (REES), caused by the defective adhesion of the epithelium to the cornea. Though quite common, it can be missed as it presents in some very different ways, she said.
It can be caused by trauma, even if it was some time in the past; epithelial basement membrane dystrophy; diabetes and other anterior corneal dystrophies, such as granular, Reis-Bücklers, Fuchs' and Meesmann. Symptoms include sudden sharp pains, watery eyes, blurry vision and light sensitivity, especially on waking. Typically, management includes topical lubrication before sleep and preservative-free artificial tears during the day, plus topical antibiotics if there's an epithelial defect, said Dr McAllum. For recalcitrant REES, patients can be given bandage contact lenses (which can be worn for months in some cases) and topical steroids to tackle inflammation, which slows down healing, and epithelial debridement.
Ocular side effects of psychotropic drugs
With one in five New Zealanders affected by mental illness, there are a lot of Kiwis on mental-disorder drugs, said Dr Julia Escardo-Paton, and that number is increasing, so it's important to understand how they work and can affect the eyes.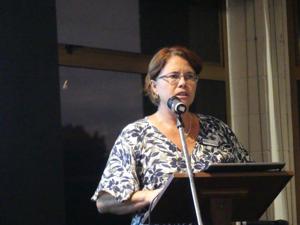 Dr Julia Escardo-Paton discussing the ophthalmic side effects of mental-health drugs
The ocular side effects of drugs to treat depression, anxiety and stress include blurred vision, dry eye, mydriasis, raised IOP and reduced accommodation. For anti-psychotic drug patients, those effects can also include angle-closure glaucoma or chronic narrow-angle glaucoma in predisposed individuals, floppy iris and oculogyric crisis, or spasms which often cause the eye to turn upwards. Side effects for the common mood-stabiliser, lithium – the current mainstay treatment for bipolar disorder – can also include exophthalmos, abnormal eye movements, ocular myasthenia gravis, papilloedema, photophobia and abnormal tear film and dry eye. Thus, taking a detailed drug history when managing patients with poor tear film and persistent dry eye, unexplained subtle symptoms of visual blur, or unusual eye movements, is paramount, said Dr Escardo-Paton.
What's new in diabetes and GA?
Last up was Dr Andrew Riley, who discussed some new drugs for diabetes and a possible treatment for geographic atrophy (GA).
Noting that blurry vision, in people of all ages, could be an early sign of type 1 diabetes, Dr Riley said a new treatment for type 2 diabetes, empagliflozin (Jardiance), is a bit of a game changer. It acts on the kidney to reduce the reabsorption of glucose, doesn't make the patient gain weight (unlike several current treatments) and can be given with or without metformin. Another, dulaglutide (Trulicity), given as a weekly injection, increases insulin and reduces glucagon, minimises kidney damage and also acts as an appetite suppressor. Neither is cheap, he said, but the health benefits far outweigh the costs. He closed his diabetes section by covering the latest Diabetic Retinopathy Clinical Research Network (DRCR.net) studies, showing that while anti-vascular endothelial growth factor treatments were working, for many patients combining them with panretinal photocoagulation provided better outcomes – especially if the patient missed injection treatments – and was far more cost effective.
Turning to GA, the chronic progressive degeneration of the macula in the later stages of age-related macular degeneration (AMD), there is some hope on the horizon, said Dr Riley, with pegcetacoplan. Previously the only way to slow GA was through diet and lifestyle changes, but the Filly, Derby and Oak trials (see story pX) have found that pegcetacoplan injections can reduce GA by 12% to 26% in one year. So the more we can slow the progression of dry AMD to wet AMD, and then to GA, the better, said Dr Riley. "Because in the next two or three years, there may finally be a treatment for geographic atrophy."