CCLS 2022: Meet the speakers
The CCLS conference offers an exciting line-up of speakers including Australian keynotes Damon Ezekiel and Professor Gerard Sutton. Also joining live from across the ditch is Margaret Lam, national president of the Cornea and Contact Lens Society of Australia, who will cover the hot topic of amniotic membranes in ocular practice and share some weird and wonderful cases she's come across over the years.
The international speakers will be joined by many familiar local ones, including CCLS vice-president Dr Rasha Altaie, Adele Jefferies, Dr James McKelvie, Jagrut Lallu, Professor Charles McGhee and Alex Petty, covering everything from rigid gas permeable (RGP) contact lens (CL) fitting to oral remedies for dry eye and most anterior eye topics in between.
Damon Ezekiel
Damon Ezekiel, owner and manager of Ezekiel Eyes, a third-generation optometry practice in Perth, Western Australia, specialises in vision rehabilitation through CLs.
As the president of the International Society of Contact Lens Specialists and co-founder of the Euro-Asian Scleral Lens Academy, Ezekiel is a popular international speaker and educator and regularly conducts workshops in CL practice. He also teaches the fitting of all types of RGP CLs, including ortho-k and scleral lenses, soft bifocal, multifocal and cosmetic CLs. He specialises in patients with keratoconus, post-graft and post-refractive surgery and with children requiring treatment following operations for congenital cataracts.
The son of gas permeable scleral lens pioneer Donald Ezekiel, Damon Ezekiel said he still treats five patients who were seen by his father and grandfather before him. "I get great satisfaction in seeing the look on patients' faces when you can give them a quality of life that they describe as 'life-changing' or 'amazing'. Many of my patients cannot hold down a job or drive without the vision results that we can give them in our practice, providing them with the lifestyle that many of us take for granted."
Ezekiel Eyes also treats babies who are fitted with a gas permeable fenestrated scleral CLs due to cataract surgery. "Seeing them grow up into children and then teenagers living their lives with terrific vision is very rewarding. The gratitude of their families is often immense," he said.
When he's not busy at the clinic, Ezekiel said he enjoys being active, running, swimming and doing yoga and loves travelling and trekking with his family.
Professor Gerard Sutton
Professor Gerard Sutton, head of the corneal unit at Sydney Eye Hospital, holds the Douglas Chair in clinical ophthalmology and eye health at Sydney University. He's also the medical director of Lions New South Wales Eye Bank and a visiting professor at the University of Medicine Mandalay in Myanmar. Prof Sutton was the chief ophthalmologist at the Sydney Olympics in 2000 and established the world's first graduate diploma in refractive surgery at Sydney University in 2010. In 2018, he was awarded a grant of more than AU$1 million and the inaugural Sydney Research Innovation award for the iFixPen, a handheld 3D-printing device for the treatment of corneal ulceration. Three years later, Prof Sutton received another $1million grant from the Australian government to build a prototype bio-engineered cornea, a development Prof Sutton will address in one of his sessions.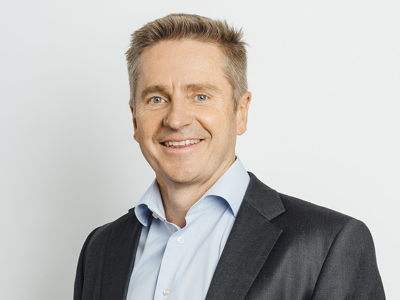 Although financial investment is a significant hurdle, Prof Sutton said he believes some form of bioengineered cornea will be a routine part of corneal surgical armamentarium within five to 10 years. "Given over 50% of the world's population don't have access to corneal transplantation, there is huge investment of time, money and expertise into this field all around the world. We can already manufacture individual layers to treat endothelial and epithelial disease, but refinement is still necessary, which takes time and funding. We are in the process now of applying for what would be the largest ophthalmic grant in Australia's history from our federal government, but are up against research teams from all areas of medicine."
Prof Sutton will also cover emerging and new technologies for presbyopia correction. It's worth remembering an old saying when dealing with new tech, he said, 'Be not the first for whom the new is tried nor yet the last to lay the old aside'. Having watched many technologies come and go, by and large with evidence-based medicine behind them, Prof Sutton said he hasn't adopted too many that ended up as a dead-end. "I think with the new presbyopic eyedrops coming onto the market, there will be early adopters among optometrists who will try them out, but I expect them to be well and truly ready for market when they finally arrive."
Part-Kiwi – his great grandparents hailed from Dunedin – Prof Sutton said he's missed New Zealand during the past two years and is very much looking forward to coming back and catching up with colleagues and friends.