Chalkeyes presents: My new best friend
Almost as soon as pandemic and lockdown arrived, we were talking about the lasting changes this might bring: the 'new normal'. I got a bit tired of hearing the phrase, but I was all on board for change. The world we know could be made better in so very many ways.
Where are we now, a year and a half later? Individual lives have seen all kinds of upheaval, but has the world as a whole shifted so much?
In my own life, changes have been both little and quite large. Over lockdown I got out of the habit of using cash and never went back. And my way of earning a living has pivoted, as they say. There are also certain things I used to do a lot that I don't feel so inclined to do now. One is flying.
A few weeks ago I needed to go south to Palmerston North: down one day, back the next. Until the pandemic I would have booked a flight without a moment's thought but the few flights I've taken since lockdown have felt somehow more of a trundle and not so much pleasure. There's also that question of carbon emissions.
There was also a time long ago when I would have readily made the drive, but no more; the fun's gone and besides, if you're at the wheel for all those hours there won't be much work getting done.
Meanwhile, in the corner of my eye was the option I would idly consider now and then, but say, "Oh, it's probably not practical" - the train.
I checked the timetable: leave Auckland before 8am, reach Palmerston North just after 4pm; back the next morning on the 10am train, arrive in Auckland just after sunset; and I could do my day's work on the train. Oh, why not? Let's make this an adventure. Click, click, and there's the booking done. Ticket for one on the Northern Explorer, bound for points south. A couple of days later I was at the Strand station stepping onto a very fine-looking carriage.
Until then the fanciest local train I'd ridden had been the TranzAlpine, and the railcar service that ran in the Nineties between Tauranga and Auckland using, I think, the old Silver Fern. They were good-looking, those railcars, but a bit pinched and not especially comfortable, and the food was served at regulation thermonuclear temperature from the microwave. But this one was very fine indeed: high, wide windows, tray tables, slots for your USB cables, fresh coffee. This was going to be a good day. We began by gliding through the Auckland suburb and then, once we were past the suburban train traffic, they opened the throttle and I thought, "This train can really hoof it". I remember the Northern Express and the Limited working this main trunk line and honestly it would take about a week to get from Feilding to Auckland. But we were flying!
It's one thing to pull down your tray table and open up your laptop on a plane, it's another to do it in this much room and comfort. You have ample space; the comfort of getting up and strolling whenever you feel like it; a dining car with good food; the most comfortable, best-appointed ride I've had on local rails. When you feel like it, you walk along to the observation car which is an open carriage and have the world assault all your senses with the roar and the whipping wind and the smells: the diesel, the tunnels, the countryside.
The order of things gets subtly inverted on a train. People wear a face to the world in front of their house, but they don't really seem to consider what people might see from the railway track. There's so much to see from behind: the timber mills; the pig farms; cars rusting in peace at Horopito; at Ngāruawāhia an entire circus and sideshow crated up in storage; a magnificent unending show all the way down the main trunk line.
I loved every bit of it and I mean to make it my new way of travel to Wellington - which is the old way, the way things used to be: abundant, long-distance train services carrying people from one end of the country to the other.
How much change is coming? How much 'new normal' might we get?
There was a time before there were cars everywhere. It's quite possible that time could come again. Between my e-bike and a train like the Northern Explorer, it's a new normal I could be very happy with.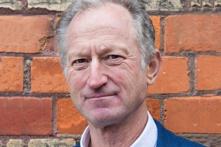 David Slack is an Auckland-based author, radio and TV commentator and speechwriter, and a regular columnist for NZ Optics.