Ocular melanoma in Aotearoa
Ocular melanoma (OM) is the most common cancer in the adult eye. OM affects structures in the eye containing melanocytes: the choroid, ciliary body, iris (collectively called the uvea) and the conjunctiva. Uveal melanoma can be deadly, with approximately 50% developing metastases1, and in those that do, the prognosis is poor, with survival <12 months2 from the onset of metastatic symptoms. The annual incidence of OM ranges from <1 case/million population/year in Southeast Asia and African countries3 to as high as 8-11 cases/million population/year in Northern European countries4. Closer to Aotearoa, the annual incidence of OM in Australia is approximately eight cases/million population/year (two-thirds histologically and one-third clinically diagnosed cases)5.
There are presently no large-scale studies on the incidence of OM in Aotearoa. Therefore, as part of my PhD, supervised by Professor Charles McGhee, Dr Stuti Misra and Dr Akilesh Gokul, a retrospective review of histologically confirmed cases of OM in Aotearoa over a 21-year period from 2000 to 2020 was conducted using information from the New Zealand Cancer Registry. The results of this study were recently presented at the Best Paper presentation session at the virtual RANZCO 52nd Annual Scientific Meeting that was held at the end of February 2022.
The local picture
The overall age at diagnosis of OM in Aotearoa is in the mid-60s, with Māori showing a lower age of mid-to-late 50s at diagnosis. There was no gender predilection of OM in our study, and there was a 26:1 ratio of Europeans vs Māori who had OM. As expected, the majority of OM occurred in the choroid, followed by the ciliary body and iris combined, and conjunctiva. All incidence calculated in this study were age-standardised to the WHO world standard population to allow comparisons with international studies. The annual incidence of histologically diagnosed OM were approximately seven cases/million NZ population/year. The one-, five- and 10-year survival probabilities were 95%, 68% and 51%, respectively. No survival difference was found between genders or between Māori and Europeans. We found a trend increase in OM incidence as we go farther south in Aotearoa, but this was not statistically significant.
Discussion
This study demonstrated the rates of histologically diagnosed OM in Aotearoa to be within international estimates, with the disease predominantly affecting European individuals. By extrapolating from the Australian studies, it is possible that the histologically diagnosed OMs in our study make up only two-thirds of the total OM in Aotearoa, with approximately one-third being clinically diagnosed and subsequently being treated with no histological diagnosis. This may suggest that the true incidence of OM in Aotearoa is higher than the present study suggests.
We were surprised by the higher proportion of combined total of iris and ciliary body melanomas when compared with international studies; further investigation is being conducted to identify why that is the case. The lower age at diagnosis of OM in Māori also warrants further investigation. Do Māori patients present earlier with symptoms of OM, leading to earlier diagnosis, or is OM occurring earlier in this cohort?
The practical implications for an eyecare professional are to be vigilant of melanoma as a differential when examining patients who present for an assessment or a routine eye exam, especially in Europeans in their 60s; to refer any suspicious lesions early so vision- and perhaps life-preserving treatment can be initiated; and to be aware of melanoma, albeit rare, as a differential of pigmented eye lesions in Māori, who may present in their 50s.
The next steps are to conduct a retrospective review in a similar period, to identify clinically confirmed cases of OM that did not result in a histological diagnosis. This next study will hopefully allow us to calculate the true incidence of OM in Aotearoa, results of which have potential implications on the role of UV light in the pathogenesis of this condition, especially uveal melanoma, on which the jury is still out.
References
Jensen OA. Malignant Melanomas of the Human Uvea: 25‐Year Follow‐up of Cases in Denmark, 1943–1952. Acta Ophthalmologica. 1982;60(2):161-182.
Jager MJ, Shields CL, Cebulla CM, et al. Uveal melanoma. Nature Reviews Disease Primers. 2020;6(1).
Hu DN, Yu GP, McCormick SA, Schneider S, Finger PT. Population-based incidence of uveal melanoma in various races and ethnic groups. American Journal of Ophthalmology. 2005;140(4).
Virgili G, Gatta G, Ciccolallo L, et al. Incidence of Uveal Melanoma in Europe. Ophthalmology. 2007;114(12).
Beasley AB, Preen DB, McLenachan S, Gray ES, Chen FK. Incidence and mortality of uveal melanoma in Australia (1982-2014). Br J Ophthalmol. 2021 Dec 8:bjophthalmol-2021-319700. Epub ahead of print. PMID: 34880052.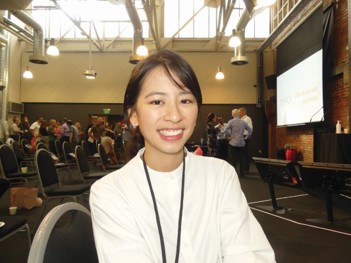 Dr Joevy Lim is an HRC clinical research fellow and PhD student in the Department of Ophthalmology, University of Auckland. Her research focuses on ocular melanoma and melanocytic lesions, and anterior segment disorders.