Travelling companions for sore eyes
Continuing on my 'journey to blindness' theme from May's issue, I reckon it's important to learn about the stuff that makes the trip comfortable and reject the nasty bits, where possible. First to go would be vision test charts – they make me feel uneasy, hanging there like silent judges waiting to pass sentence on failings I've got no control over. Fortunately, that sort of stress disappeared when I graduated to becoming a near-total blindy.
I can now afford to be a bit whimsical about eye tests. The charts don't give you a break – either you've still got it, or you've lost heaps since the last visit. The process is almost biblical in its ruling – if you can't read the top bit, you're as guilty as sin, but if you can do the tiny ones at the bottom you get to walk away scot-free. The bits in the middle are negotiable and that's where optometrists come in to reach a decision, sort of like appeal magistrates. In my case, they treated me to a display of lens swapping worthy of a Las Vegas blackjack dealer, combined with a running commentary of, "Can you see better with that eye now?" Eventually I found I could, and with my then newly acquired specs I could face the chart and make a game of it. Sadly, that didn't last.
Growing up
After a few years, retinitis pigmentosa (RP) fought back – it was almost as if the thing had the capacity to recharge itself. So it was back to the optometrist and, despite increased magnification, we eventually decided that it was time to move on.
I've never really trusted computers but, like most electronic gadgets, they look fantastic when someone else is using them. In anticipation of things to come, however, I enrolled in an eight-week computer class, run by what was then The Blind Foundation. It was a fantastic initiative on their part, though a weird experience for me. I still had some blurred sight and wasn't completely out of denial, so I felt a bit misplaced and, consequently, frustrated. A demonstration of the Dolphin Guide programme turned things around dramatically. Using the guide, I didn't need to chase a cursor around the screen with a mouse, I could access the menu just using the number keys. It was idiot proof.
Flushed with my new ability, we headed to Harvey Norman to buy a computer, my first real blind purchase, apart from stop-gap stuff like torches and magnifiers. The Toshiba desktop and large-print keyboard are still a godsend, although I'm a lazy blindy, so the invitations to update and upgrade get deleted before they can sow seeds of doubt into my daily routine.
Taking the tablet
Having allowed me to dodge the smartphone, the family countered with the iPad. This, they assured me, was a life changer. At the store, I was treated to a mind-numbing demo of the thing's capabilities, most of which I forgot during the ride home. Initially I stuck to eBooks and Spotify, but as time went on, the need to enlarge the text increased and I discovered reading about four words per line wasn't the best way to enjoy a book.
Through the Blind Low Vision NZ's (BLVNZ's) library service, I moved on to audio books and suddenly I didn't feel blind anymore; I could actually read, after a fashion. After gorging myself, I discovered that 90% of the quality hangs on the narrator, some of whom are best described as readers, while others are talented actors. I re-visited Dickens, for fun this time. George Hagan's reading of David Copperfield is an absolute gem, bringing the characters to life in a way the movies never really achieved. I would have remained happy, had Apple not betrayed me by bringing apps and updates into the relationship. The iPad reinforced my theory that simplicity should be a compulsory function for stuff with batteries.
Ruby and Alexa
I love cryptic crosswords; they've always helped me kick-start the brain in the morning. But, as with most of the ongoing effects of RP, it takes a while to realise which things you can't do properly anymore and flitting between the clues and the grid using a traditional magnifying glass proved little beyond my refusal to accept my new limitations.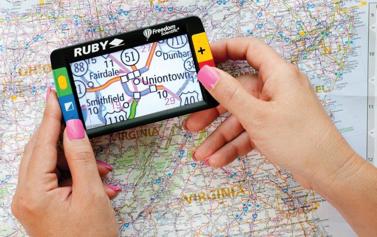 The Ruby magnifier, great for crosswords
After a chance meeting with Naomi Meltzer, I visited her Low Vision Clinic in Remuera. Naomi is 'no nonsense' to the core. Most new blindies are ever hopeful, and I was no exception, hoping for the magic whatsit that would restore even a little vision; as such, I accumulated toys I didn't really need. Naomi doesn't do toys, but after she demonstrated the Ruby magnifier, I was hooked. It was so simple to operate, like a miniature video camera capable of adjusting text size and colours by using just a couple of buttons. On the debit side, it's expensive at around $1,000 and a bit fiddly when it comes to re-charging, but it's made the crossword a fair fight again, so it's money well spent!
In an inspired move a couple of years ago, BLVNZ made an Alexa-enabled smart speaker freely available to its members. I have an inbuilt distrust of gadgets that make my mind up for me, and sticking the word 'smart' on a device somehow seems to imply that I'm not! That said, I do enjoy having Alexa in the house, although, unlike Ruby, she can become intrusive, with Mr Apple only too happy to increase my dependence by offering yet more 'skills'. Thus far I've restricted her to news items and audio books. Others assure me that she'll do heaps of other stuff if asked, but at present I prefer to feel that I'm running the show.
Cane and able
I could probably live without the toys; they're pleasant enough to have around but hardly necessities. If I'm truly dependent on anything on the journey, it's the cane. It takes away most of the uncertainty of being out and about. Even when I'm being guided it helps me feel that I'm taking part rather than just being led around.
One of the most important things for blindies is to make others aware of the problem. Since few people actually 'look' blind, the cane advertises that instantly, letting skateboarders and scooter riders know that extra care is needed. As visual aids go, it's the simplest – no buttons, apps or updates. With some judicious waving, you've got a personal hazard warning, a crowd-free travel permit and, in these germ-ridden days, a social distancing measure. Beat that, Mr Bezos!
And some thanks…
I've bumped into some great people who have been invaluable to me on the journey, including the late Gordon Sanderson and Rod Keillor in Dunedin, who tells it like it is; the Auckland University visual science team, who gave me a jolt of enthusiasm with every visit; Harrison and Graham in Jervois Road, whose unstinting help has been very much appreciated; Dr Andrea Vincent and everyone at Greenlane Eye Clinic, for being there. Friends in BLVNZ: you're all stars! Then there's the ladies at NZ Optics who make space for an old geezer to let off steam, and finally, Pam and the family, who never make a big deal out of sight loss but always made sure I never felt I was travelling alone.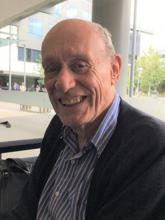 Born in the UK, our 'white-caner' columnist, retired Dunedin antiques dealer Trevor Plumbly was diagnosed with retinitis pigmentosa more than 15 years ago and now lives in Auckland.