Two years: the impacts of Covid-19 on eyecare
Being geographically isolated, New Zealand's Covid-19 elimination strategy was extremely effective during 2020 and most of 2021. In early December 2021, although there had been a total of 12,000 cases of Covid-19 in Aotearoa, the mortality rate was just 0.36% (44 deaths). In stark contrast, the UK, which has a similar national healthcare system, had 10.2 million cases and 147,000 deaths.
Our recurrent and lengthy lockdowns have in many ways saved lives and our healthcare system, but their toll on other aspects of healthcare in New Zealand have largely remained beyond the focus of mainstream media reporting. The enormous impact, however, on eyecare, under- and post-graduate teaching, surgical training, ophthalmic research and practitioner well-being has been substantial and widespread.
Eyecare during lockdown
In 2020's initial alert level 4 lockdown, the eyecare system virtually came to a standstill, except for urgent cases. This was further impacted when alert levels 4 and 3 were reinstated for more than three months in August 2021. The downstream effects of these strict lockdowns have been considerable.
Notably, in October 2021, the number of patients spending more than 120 days on ophthalmological surgical waitlists in one of the country's largest district health boards (DHBs) was 141% more than in March 2020 (one week after the first lockdown). With the closure of community optometry practices, patients avoiding hospitals, cancellation of most elective eye surgeries and limited access to clinics and procedures, the number of patients attending eye clinics decreased by more than half! This has created a growing clinical backlog (potentially years-long) that will take considerable effort from the entire workforce to address, especially if we use the Singaporean experience1 as our benchmark and increase capacity to higher than pre-lockdown levels.
The staggered return of near-normal eyecare is an evolving process. Currently, the availability of health practitioners has to be matched to that of clinic rooms, procedural rooms or operating theatres, which may result in regular evening and weekend work schedules to maximise use of limited physical resources. Concurrently, the relative urgency of the clinical needs of patients is constantly being reviewed, with increasing delays for non-essential care.
The availability of patients and healthcare practitioners is also ever-changing; being a close contact or having symptoms from Covid-19 or seasonal illnesses results in longer and sometimes frequent periods of self-isolation. The requirement for social distancing to prevent crowding in waiting areas clearly limits the number of patients seen. Ultimately, the staggered return of eyecare has resulted in a system operating at reduced clinical capacity and maximal administrative capacity.
The cancellation of elective surgical and clinical cases was an obvious first choice for most clinical leaders, which allowed focus on triaging acute and urgent clinical and operative patients. As the world learned more about Covid-19, bodies such as the Royal Australian and New Zealand College of Ophthalmologists (RANZCO) and Moorfields Eye Hospital circulated guidelines to assist with triaging and evaluation of high-risk cases. Still, many more patients in the community are likely to have delayed or undiagnosed presentations, or deterioration in their chronic conditions. Patients with age-related macular degeneration (AMD), diabetic eye disease, glaucoma and those needing donated corneal tissue have been particularly affected. Notably, corneal donation in Aotearoa has dropped by 50% over the last two years, leading to a near-doubling of waiting lists.

A potential consequence of delayed treatment in neovascular AMD is the development of macular scarring. When there is disciform scarring, as shown in this OCT scan, intravitreal anti-VEGF injections have limited effects on improving vision
In the case of neovascular AMD, there is no shortage of studies from across the world that have shown that the impact of delaying or missing anti–vascular endothelial growth factor therapy (anti-VEGF) treatments reduces the chance of vision returning to baseline2. Initially, the perceived risk of patients contracting and spreading Covid-19 outweighed that of vision impairment from delayed anti-VEGF treatment. But with the development and widespread availability of Covid-19 vaccines, this risk has changed and intravitreal injections have now been re-prioritised to continue in more recent lockdowns.
There are also potential impacts on our future patients. The closure of daycares and schools means children need to be cared for home. Inevitably, this has increased children's average screen time and decreased their outdoor sunlight exposure. Thus, the rate of myopia is likely to increase3, with downstream effects on paediatric and general eyecare.
Research, teaching and training
The increased need for provision of ophthalmic services requires a collaborative effort between public and private providers, as well as new eye health practitioners. But there may be delays in the maturation of the newer practitioners. National administrative data from April 2020 confirmed that the average number of elective operations reduced to 11.5% of service volumes in April 20194, which has significantly compromised the operating training hours for trainee ophthalmologists. Although the surgical volume partially recovered in late 2020, with no extension to training duration in sight for 2021, this has caused concern for many trainees5.
Fortunately, the virtual reality Eyesi Surgical simulator has been available in the microsurgical suite in the Department of Ophthalmology at the University of Auckland (UoA) since February 2020. RANZCO encourages the use of the Eyesi, which has been shown to increase proficiency and reduce complication rates for cataract surgery, and has become a valuable tool for trainees6.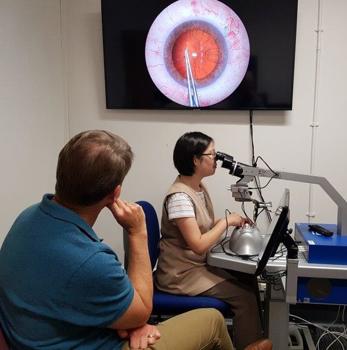 Training with the Eyesi Surgical simulator
However, the closure of UoA campuses in alert levels 3 and 4 has also meant that this invaluable resource has been unavailable. However, a major update of the microsurgical suite at the UoA New Zealand National Eye Centre will include eight microsurgical stations and a second Eyesi unit. All facilities are expected to be available from January 2022.
The effects on teaching also extend to both optometry students and medical students undergoing ophthalmology attachments. Closure of community optometry practices and the university optometry clinic has meant that as of November 2021, an estimated 2,017 practical sessions for final-year optometry students were cancelled, and at least 384 clinic or theatre sessions for medical students were cancelled in 2021.
Unfortunately, it is now entirely possible that two cohorts of future medical practitioners lacking physical exposure to eyecare may require supplemental training. This is concerning not only because early exposure draws medical students to the profession, but also because doctors with less experience in ophthalmology are likely to need advice from eyecare practitioners (ECPs) more frequently, further compounding the need for greater optometry and ophthalmology resources in the future.
Even for experienced ECPs, continued medical education has taken a back seat with most conferences cancelled because of the unpredictable nature of the Covid-19 lockdowns. Fortunately, the Save Sight Society Australia and the NZ Cornea Society and Cornea and Contact Lens Society (CCLS) have all held major physical conferences in Aotearoa during the last 24 months. Some other conferences have also been able to resume between lockdowns and many have continued as virtual conferences, such as Optometry Virtually Connected (OVC). The flexibility of virtual conferences and no requirement for travel certainly appeals to some, although most miss the collegiality of in-person meetings.
Clinical and laboratory research has also taken a major hit, particularly in Auckland. The impact on eye health research has been significant not only due to limited laboratory and clinic access, but many clinical projects have been on hold due to restrictions on study participants or patients. However, research projects that were nearing completion enjoyed the luxury of unadulterated time to complete manuscript write-ups. This is possibly why journal editors and peer reviewers may have had a very busy year and disagree with the notion that research has slowed down at all! Nonetheless, in the medium to long term, delayed completion of recent projects will have flow-on effects on funding and retention of research personnel.
Practitioner wellbeing
One upside of the lockdowns is that many practitioners took time to focus on their own health and family life. A survey of New Zealand ophthalmologists in mid-2020 found that lockdown(s) positively influenced their physical health4, possibly due to the increased amount of time afforded to physical exercise. In this survey, mental and social health were unchanged. Perhaps this might have been different if re-surveyed in late 2021, especially with the growing sentiment of lockdown fatigue. The same could not be said for ophthalmology trainees5, who admitted that lockdowns negatively impacted their mental health. A general increase in stress is certainly evident among not only clinical staff but possibly more so among managers and administrative staff. The fiscal pressures with closed community clinics are also likely to impact practitioner wellbeing in the medium term.
Conclusion
The negative impacts of Covid-19 lockdowns on eyecare, teaching, training, research and practitioner well-being are widespread and, as yet, are not fully established. The unpredictable but inevitable nature of Covid-19 mutations and the red-light, green-light system will make it challenging to quickly ramp up patient services to beyond pre-Covid-19 levels in 2022. However, that is precisely what will be required of all healthcare and educational facilities to address the patient backlog, which will otherwise take three to four years to clear; avoid significant adverse patient outcomes; minimise delays in undergraduate and postgraduate training; and improve clinical and visual sciences research outputs. All the while, we also need to be cognizant of the often unseen impacts of the pandemic on our own physical and mental well-being as eyecare providers.
References
1. Lim HB et al. Clinical operational considerations and responses to lockdown and reopening in the Covid-19 pandemic: experience of a tertiary ophthalmology centre in Singapore. Eye (London) 2021 Sep 28.
2. Stone LG et al. Delayed follow-up of medical retina patients due to Covid-19: impact on disease activity and visual acuity. Graefes Arch Clin Exp Ophthalmol 2021 May 11;259(7):1773-80.
3. Thomas Ling. Covid-19: Childhood short-sightedness rise linked to lockdowns. BBC Science Focus 2021 Aug 3. Available from: www.sciencefocus.com/news/covid-lockdown-shortsightedness-children
4. Scott DAR et al. Impact of the Covid-19 pandemic lockdown on public sector ophthalmic work by New Zealand's ophthalmologists. New Zealand Med J 2021 Jul 9;134(1538):120-7.
5. Hussain R et al. Impact of Covid-19 on ophthalmic specialist training in the United Kingdom-the trainees' perspective. Eye (London) 2020 Dec;34(12):2157-60.
6. Ferris JD et al. Royal College of Ophthalmologists' National Ophthalmology Database study of cataract surgery: report 6. The impact of EyeSi virtual reality training on complications rates of cataract surgery performed by first and second year trainees. Br J Ophthalmol 2020 Mar;104(3):324-9.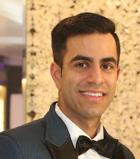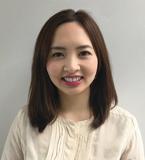 Dr Himanshu Wadhwa (left) is a junior research and clinical fellow and Dr Jie Zhang (right) is a senior research fellow in the Department of Ophthalmology at the University of Auckland, headed by Professor Charles McGhee.